This article may contain affiliate links, which means we may receive a small commission for your click. We only recommend products that we trust. Read more here.
Are you a beginner wondering how to make money with affiliate marketing?
Think about it. Through promoting others' products and services, you can earn hundreds or thousands of dollars a month online. 
You can generate income by writing content, and after the content is written, the money becomes, more or less, passive income.
Affiliate marketing can be a fantastic way to earn money online. 
Excited to learn more? Let's jump into how you can start making money with affiliate marketing.
What is Affiliate Marketing?
The idea behind affiliate marketing is when you, the affiliate or publisher, earn affiliate commissions by promoting someone else's products or services. 
Here's an example:
A course creator is selling an online course for $200 and offers a 40% commission to someone to market it for them.
You market this creator's course to people who read your blog using an affiliate link (covered later).
A reader comes along and clicks on your affiliate link
The reader then purchases the course for $200.
Because the reader used your affiliate link, you now earn 40%, or $80, from the course creator.
The course creator makes more sales by having several affiliates, and each affiliate earns money from promoting the course.
Level Up Your Income
Download this FREE eBook with 50+ side hustles you can start today. Supplement your income or replace your full-time job entirely!
How Do Affiliate Marketers Get Paid?
There are three primary ways that you can get paid when you do affiliate marketing. 
Pay Per Click: When you're paid by the click, you're essentially making money for sending traffic to the affiliate's website. Many ad networks use a pay per click (and pay per impression) model when running their ads on your website. 
Pay Per Lead: With this model, you earn money whenever someone clicks your affiliate link and signs up for something on the merchant's website. This could be as simple as signing up for a mailing list or entering for a chance for a free gift card. There is no purchase in a Pay Per Lead model. An example of this is Survey Junkie, which pays an affiliate commission each time someone signs up through your affiliate link.
Pay Per Sale: Being paid for sale is much like it sounds. You receive a commission each time someone buys a product or service through your affiliate link. In this case, you must convince someone to make a purchase for you to earn money.
How Much Can You Make With Affiliate Marketing?
The answer to this question isn't a simple number. The amount of money you'll make through affiliate marketing will vary, depending on what you're marketing, what the payout per action is, what your traffic is, and what your conversion rate is. Some affiliate marketers earn a few hundred per month, while others earn between $1,000 and $10,000 per month. It's possible to earn more.
How Fast Can You Make Money With Affiliate Marketing?
The avenue in which you attempt to earn money with affiliate marketing will determine how fast you begin making money. That said, it's possible to start earning money within a few months. It may take longer to earn significant income.
What Is An Affiliate Network?
An affiliate network is a third-party company that manages merchants and helps publishers find merchants more easily. As a publisher, you can sign up to one or more affiliate networks to find merchants whose products and services you can market.
Publishers generally join affiliate networks for free as the network charges fees to the merchants. 
How Do Affiliate Networks Work?
When you join an affiliate network, you'll be able to search through all of the merchants available. These are usually categorized by niche, such as "Clothing", "Accessories", "Family", "Education", "Financial" and so on.
When you've found one or more companies with products or services that you want to promote, you apply to become an affiliate. At this point, you may need to fill out some information, such as providing your website, your traffic metrics, how you plan to promote, your estimated conversions per month, and so on.
Based on the information you provide, a merchant will approve or deny you as an affiliate. 
If you are approved to be an affiliate, you'll gain access to assets, such as graphics to add to your site. You'll get your unique affiliate link which is what you'll use in your content. This affiliate link tracks people who click on it so that you get paid when someone converts.
How to Join Affiliate Marketing Networks
Joining most affiliate marketing networks generally involves simply creating an account and providing information about your website or online platform. Sometimes you'll have to meet with an affiliate marketing manager to answer some basic questions.
Different affiliate marketing networks have different offers, so it makes sense to sign up for more than one. 
Here are some of the affiliate networks that I recommend:
How to Write an Affiliate Marketing Disclosure
You must disclose that your content contains affiliate links if it does. This disclosure doesn't have to be fancy, as long as potential consumers know that you will earn a commission if they convert. 
An example of an affiliate disclosure is:
"This article contains affiliate links. This means I may receive a commission if you make a purchase, which won't cost you anything extra. I only recommend products and services I truly believe in."
When you have a blog, you'll want to put your affiliate disclosure before the first affiliate link appears. You can also place the disclosure at the top of the blog post.
How Much Traffic Do I Need To Make Money With Affiliate Marketing?
You do not need to have hundreds of thousands of monthly visitors to make a lot of money with affiliate marketing. What's more important is how engaged your audience is. Having 10,000 flowers who don't engage with you doesn't help you, but having 1,000 followers who are regularly active will earn you a lot more money.
To build a loyal following requires you to consistently engage with them and provide them with recommendations that will help them with their needs.
Write a Guide or Review to Make Money With Affiliate Marketing
Readers are more likely to engage with a product or service when they have more information about it. Helping the reader via showing them the benefits of the product can lead to more conversions.
A tutorial walks a potential consumer through everything they need to know so that they feel confident enough to make a purchase and move forward. 
Here are some things you can do in a tutorial or review:
Introduce the product and talk about what it is and how it will help your reader.
Use media to enhance your post. That means using pictures and/or video.
Be detailed. The more detailed your tutorial is, the more helpful it will be for your reader. This is also good for SEO.
Add your affiliate links, but don't be spammy with them. Usually, having one link in the beginning, middle, and end is all you need.
When you have enough engaged traffic, a single tutorial could earn you a lot of money over a long period of time. Put extra care into each tutorial you write so that you really help your reader understand what it is you're trying to get them to buy.
Use Your Email List to Make Money with Affiliate Marketing
An email list is a great tool to use for affiliate marketing. It's important that you only promote helpful products to your email list and avoid spamming them. 
Similar to writing a blog post, when writing an email to market an affiliate product, open with an introduction about what the product is and how it will help the reader. Describe the product and how it works. 
You won't include an entire tutorial in an email, but you may provide a link to a full tutorial. After you talk about the product, include that you are providing an affiliate link and then provide your link. 
If a product is on sale, using your email list is a perfect way to announce the sale and earn some affiliate sales. 
What makes email lists so powerful is that the people who sign up for your list are your people. They signed up to hear from you, and they may be more likely to convert because they know and trust you.
There's no right or wrong frequency of emails to send, however, a common frequency is one email per week, with extra emails thrown in during a launch or sale.
Include Links in Your Blog Posts
Besides writing reviews and tutorials, you can include links in your blog posts as you discuss various topics. For example, I write a post about how to lower your monthly expenses, and one affiliate link I include is a website called The Zebra, where you can save money on auto homeowners insurance. While the post does not directly teach the reader how to use The Zebra, the link is included in a paragraph as a means to be one way a reader can lower their expenses. 
When you include affiliate links in your blog posts, make sure to explain the product in a sentence or two. Randomly adding affiliate links to blog posts doesn't help anyone. By providing some sort of context and explaining the benefit of the product, you're much more likely to get someone to convert. 
Here's an example of including an affiliate link in a blog post.
I earn extra money on Swagbucks by filling out surveys and participating in offers. It's possible to earn a few dollars a day, which, while it won't turn your life around, will put some change in your pocket, which can be used for coffee money or similar.
Create a Recommended Products Page on Your Blog
Having a recommended products page on your blog can help you earn quite a bit of affiliate marketing income. Your readers read your blog because they enjoy your content, and they are likely to listen to what recommendations you have for them.
A good way to create a recommended products page is to break it down into sections. For example, if you talk about personal finance, for example, you might have a banking section where you recommend banks to save money in, then you might have a section for apps to help you save cash in various ways, and lastly, you might have a section for courses or books to help people earn more money.
Once you've created a recommended products page, you can create a menu item that leads to it and place it at the top of your site to maximize its visibility.
Be Helpful (but Not Spammy) on Social Media
You can use Facebook and Twitter to your advantage when you're looking to make money with affiliate marketing. Let's talk about Facebook first.
On Facebook, join groups that are relevant to the products you would be promoting. Once in these groups, interact naturally with the community. It's important not to simply promote products, as this will likely get you banned from the group. Instead, answer questions that people are asking, and where able, include your link, making sure you disclose it's an affiliate link. 
For example, if you're in a blogging community and someone asks about SEO, you might want to include an affiliate link to an SEO book or course. Debbie Gartner sells an amazing SEO book for bloggers which can also be used for those who want to earn more money with affiliate marketing. 
Twitter works similarly. On Twitter, you can build up a following by engaging regularly and interacting with bigger accounts. While engaging with others, providing an occasional affiliate link, especially in a long tweet thread packed with value, can help you earn affiliate sales.
For example, suppose you're an affiliate of the service Trim, which helps users save money every month by identifying unused subscriptions that they're paying for and helping them by automatically negotiating certain monthly bills. In that case, you might be able to promote it on Twitter in tweet threads where people are looking for ways to save money. You could also create a tweet thread about saving money and provide the affiliate link for Trim at the end.
Build a Social Media Community
You can build a social media community on any social media platform, but having a Facebook Group could be ideal, depending on what it is you're promoting. A crochet blogger, for example, might build a crochet community in the form of a Facebook Group, and in that community, they could have members share their projects with one another. The blog owner could then share patterns they develop and affiliate links to popular crochet products, such as yarn, hooks, or various other products that enhance a crocheter's craft.
Whatever your niche is, you can build a community on social media and occasionally drop helpful links to your community. As you gain more followers and have higher engagement, your community will click your links, and some will convert, earning you affiliate revenue.
Building a social media community takes time and dedication, but a well-developed community can be quite profitable.
Use Pinterest to Make Money with Affiliate Marketing
Pinterest is a visual search engine where people go to search for things they're interested in. In fact, according to HelloSociety, 88% of people who purchase a product have pinned it at some point on Pinterest. 
One popular method to making money with affiliate marketing that beginners can do is create a landing page on a website that promotes a product and then creates pins leading to that landing page. 
It's important to make pins and promote products that are related to your niche. Promoting random products that go to various landing pages may cause you to have difficulty getting impressions and clicks on Pinterest. Pinterest likes accounts that are niche-specific and targeted.
Create a YouTube Channel
A YouTube channel can be a great place to review products and recommend services. For example, say you want to create a YouTube channel about blogging. One thing everyone needs for a blog is hosting. A common place for beginners to host a blog is with Bluehost, as they are very affordable. 
You could create a YouTube video about starting a WordPress blog with Bluehost and providing a full tutorial and walkthrough. In the description of your YouTube video, you could then provide your affiliate link to Bluehost.
A hosting company like Bluehost may pay as much as $65 per signup if you're new with their affiliate network and much more if you frequently make sales for them.
A YouTube Channel could be used to review any product or service. You'll want your channel to have a specific niche so that you can attract viewers who know you for a specific thing. It's almost always more profitable to create content for something specific or niche than to create content for several unrelated topics.
Use SEO to Skyrocket Traffic to Make Sales
Writing a well-optimized blog post is the key to pulling in traffic. Search engine traffic is generally the highest quality traffic you'll ever receive. It generally converts better, meaning you'll get more traffic and earn more money by performing good SEO on your posts.
Debbie Gartner has a number of SEO books that discuss in-depth how to write blog posts with SEO in mind. She uses her techniques to pull in hundreds of thousands of visitors per month to her blog. Here is a link to check out her SEO books. I truly believe every blogger should have these books in their possession to push their traffic upward.
SEO is a long game that takes time. It can take weeks to months for a well-optimized post to rank well on Google for several keywords. That said, it's quite possible to rank for dozens or more keywords for the same post if optimized correctly. 
Approximately 92% of all search traffic goes to page 1, and 75.1% of all search traffic goes to the top 3 ranked posts. This makes it clear that ranking in the top 3 spots on Google on relevant keywords is the key to skyrocketing your traffic, which will make you much more likely to earn a lot more money.
Manage Affiliate Links with a Plugin like PrettyLinks
A WordPress plugin like PrettyLinks is great for managing your affiliate links. PrettyLinks allows you to paste in your long affiliate link and create a simple and easy to remember link in its place. See below: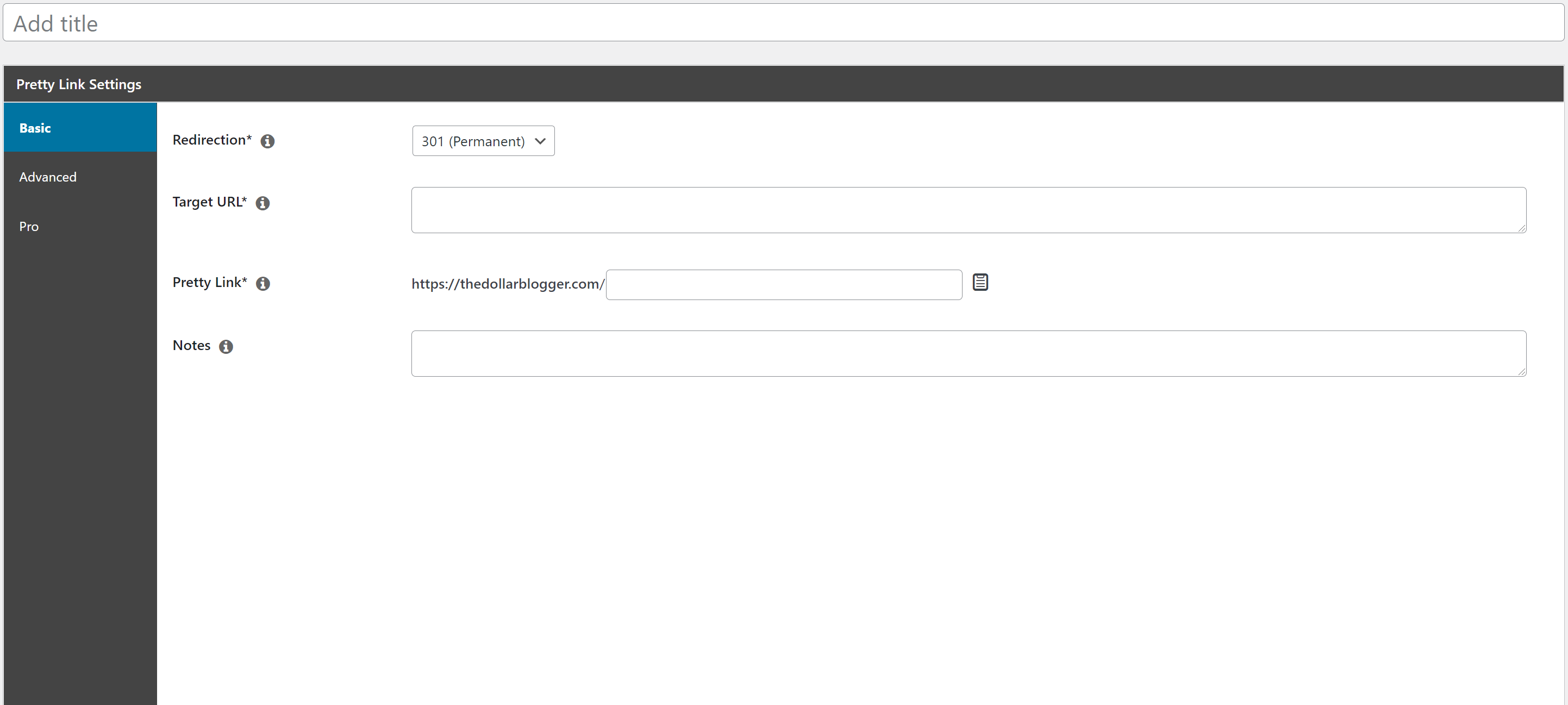 The Target URL is where you place your affiliate link and the Pretty Link is where you place your short link. So you may have a long affiliate link for something you're promoting, and the short code might be /prettylinks, if I was promoting PrettyLinks.
Wrapping It Up
As a beginner looking to make money with affiliate marketing, I signed up for Making Sense of Affiliate Marketing, a course by Michelle Schroeder-Gardner. This course taught me the ins-and-outs of affiliate marketing and where to sign up with affiliate networks. Her course covers strategy and implementation and comes with a supportive Facebook group that she's incredibly active in. With this course, I was able to start earning money through promoting products and services on this blog. I highly recommend checking it out.
What kind of money do you hope to earn with affiliate marketing?
Level Up Your Income
Download this FREE eBook with 50+ side hustles you can start today. Supplement your income or replace your full-time job entirely!