While we follow strict editorial guidelines, this article may contain affilate links to our partners who may compensate us if you click and make a purchase. Learn more about how we make money.
Affiliate marketing is a popular way to make money online. In a nutshell, affiliate marketing is when you promote other companies' products and services, and you get a commission whenever a person clicks on your link, signs up for something, or buys the product or service that you're promoting.
In this article, we'll go over how to make money with affiliate marketing for beginners so that you can start earning a semi-passive income online.
Let's jump right in.
What is Affiliate Marketing?
Affiliate marketing is when you, the affiliate or publisher, earn affiliate commissions by promoting someone else's products or services.
Here's an example:
A course creator sells an online course for $200 and offers a 40% commission to someone to market it for them.
You market this creator's course to people who read your blog using an affiliate link (covered later).
A reader comes along and clicks on your affiliate link.
The reader then purchases the course for $200.
Because the reader used your affiliate link, you now earn 40%, or $80, from the course creator.
The course creator makes more sales by having several affiliates, and each affiliate earns money from promoting the course.
Advertising can be expensive. Facebook and Google ads can add up, and oftentimes, affiliate marketing is a more affordable way for companies to promote their products and services. Someone with a large audience can make a lot of money promoting the right things. Even affiliate marketing beginners can earn money with a smaller audience, which makes affiliate marketing a viable way to earn money online.
How Do Affiliate Marketers Get Paid?
There are three primary ways that you can get paid when you do affiliate marketing.
Pay Per Click: When you're paid by the click, you're essentially making money for sending traffic to the affiliate's website. Many ad networks use a pay per click (and pay per impression) model when running their ads on your website. One affiliate marketing network that offers a PPC model is Sovrn. When you sign up with Sovrn, you'll have access to hundreds, if not thousands, of companies where many will pay you for getting clicks to their websites.
QuickBooks: The Most Popular Small Business Accounting Software
Keep your books up-to-date, generate financial statements, automatically and securely important transactions, and prepare for tax season with QuickBooks.
Affiliate Disclosure: This is an affiliate link, and we may earn a small commission if you click and make a purchase. This helps our site grow and provide you with more content. Read how we make money here.
Pay Per Lead: With this model, you earn money whenever someone clicks your affiliate link and signs up for something on the merchant's website. This could be as simple as signing up for a mailing list or entering for a chance for a free gift card. There is no purchase in a Pay Per Lead model. An example of this is Survey Junkie, which pays an affiliate commission each time someone signs up through your affiliate link.
Pay Per Sale: Being paid for sale is much like it sounds. You receive a commission each time someone buys a product or service through your affiliate link. In this case, you must convince someone to make a purchase for you to earn money.
You also may get paid as a one-time payment or a recurring payment, depending on the product or service you sell. A company that offers a subscription service may pay you a portion of the subscription for every month that the user is signed up for.
What Is An Affiliate Network?
An affiliate network is a third-party company that manages merchants and helps publishers find merchants more easily. As a publisher, you can sign up to one or more affiliate networks to find merchants whose products and services you can market.
Publishers generally join affiliate networks for free as the network charges fees to the merchants.
How Do Affiliate Networks Work?
When you join an affiliate network, you'll be able to search through all of the merchants available. These are usually categorized by niche, such as "Clothing," "Accessories," "Family," "Education," "Financial," and so on.
When you've found one or more companies with products or services that you want to promote, you apply to become an affiliate. At this point, you may need to fill out some information, such as providing your website, your traffic metrics, how you plan to promote, your estimated conversions per month, and so on.
Based on the information you provide, a merchant will approve or deny you as an affiliate.
If you are approved to be an affiliate, you'll gain access to assets, such as graphics to add to your site. You'll get your unique affiliate link which is what you'll use in your content. This affiliate link tracks people who click on it so that you get paid when someone converts.
How to Join Affiliate Marketing Networks and Programs
Joining most affiliate marketing networks generally involves simply creating an account and providing information about your website or online platform. Sometimes you'll have to meet with an affiliate marketing manager to answer some basic questions.
Different affiliate marketing networks have different offers, so signing up for more than one makes sense.
Here are some of the affiliate networks that we recommend:
In addition to joining affiliate networks to find companies to partner up with, you can also do a Google search for "company name" + "affiliate".
For example, if you wanted to know if the web host Bigscoots had an affiliate program because you wanted to review their services, you could go to Google and search for "Bigscoots affiliate" without the quotations.
Another way to find out if a company has an affiliate program is to reach out to them. Introduce yourself, your website, and how you feel you'd be a good affiliate for them. The company may have an affiliate program on a specific network and have you apply through the network or through a direct link that they provide.
Write Blog Posts That Rank on Page 1 of Google Using RankIQ
RankIQ is the only SEO toolset tailored just for bloggers.
Use AI to find keywords, outline your blog posts, and write better content that helps you outrank your competition.
Affiliate Disclosure: This is an affiliate link, and we may earn a small commission if you click and make a purchase. This helps our site grow and provide you with more content. Read how we make money here.
How to Write an Affiliate Marketing Disclosure
You must disclose that your content contains affiliate links if it does. This disclosure doesn't have to be fancy, as long as potential consumers know that you will earn a commission if they convert.
An example of an affiliate disclosure is:
"This article contains affiliate links. This means I may receive a commission if you make a purchase, which won't cost you anything extra. I only recommend products and services I truly believe in."
When you have a blog, you'll want to put your affiliate disclosure before the first affiliate link appears. You can also place the disclosure at the top of the blog post.
Select a Niche to Get Started
When getting started in affiliate marketing as a beginner, you'll want to select a niche. A niche could be just about anything, from books to technology, to educational products to blogging, to pets, or anything else.
Focusing on a single niche allows you to build an audience that trusts you as an expert on what you talk about. It's also good for SEO, or search engine optimization, which will give you a better chance of getting more of your content ranked on search engines like Google.
If you're doing affiliate marketing through a blog, niching down is one of the key ways to acquire more traffic and build a higher converting mailing list. Likewise, if you're using YouTube to do affiliate marketing, focusing on one niche will lead to more subscribers and more return viewers that will check out more of your videos.
Ezoic: Monetize Your Blog With Ads. No Minimum Traffic Requirements.
Utilize every major ad partner and automatically test them with one platform.
Increase ad revenue using advanced automation technology.
Affiliate Disclosure: This is an affiliate link, and we may earn a small commission if you click and make a purchase. This helps our site grow and provide you with more content. Read how we make money here.
Once you find a niche that you both enjoy and that is profitable, you'll want to start looking for companies in that niche that you can start partnering up with. You can look for high volume, lower commission affiliates, or lower volume, high commission affiliates, or both.
How to do keyword research to find what people are searching on
Having a keyword research tool is vital for figuring out what people are searching for. When you know what people are interested in, you'll have a better idea of what to discuss on your affiliate marketing website or channel.
We recommend several keyword research tools, and you can choose one based on your budget.
Keywords Everywhere
Keywords Everywhere is a Chrome extension and Firefox add-on that will suggest keywords based on Google searches you do. For example, if you Google "what are good writing tools" because you're looking to promote tools to help writers make more money, Keywords Everywhere will recommend additional keywords as seen below:
Having this knowledge lets you optimize your content on things people are already searching for.
Keysearch
Keysearch is an affordable keyword research tool where you can search through a database of search terms and get information such as monthly search volume, estimated difficulty to rank on each keyword, the top results on Google, and related keywords to each keyword you look up.
You can sign up for Keysearch here.
SEMrush
SEMrush is an all-in-one SEO toolkit that costs a lot more than Keysearch, but provides more functionality. Aside from having keyword research capabilities, SEMrush allows you to:
Analyze your competitors
Look for backlink prospects, which helps you rank
Perform technical site audits to keep your site healthy
Generate content ideas
Track keywords over a period of time
SEMrush does a lot more, but it comes with a price tag of $120/mo for their lowest plan. That said, their keyword database is a lot more accurate than lower-cost solutions. You can sign up for a 7-day free trial with our link and do as much research as you can during the trial.
In fact, we recommend signing up for the free trial and doing keyword research for your first 6-12 months' worth of content, and then if you need more content, consider subscribing for one month every 6-12 months.
Here is an example of how you can do keyword research with SEMrush.
Say we want to promote the best writing tools out there.
First, we'll go to Keyword Magic Tool and search for "best writing tools" and click Search.
On the next screen, we would click Related and get this list, sorted by Volume:
We can see that there is a lot of volume for the keywords "writing apps" and "best writing apps." We can also see that the KD& (rightmost column) is somewhat high. KD% means Keyword Difficulty, which is scaled from 0-100.
Because the keywords are on the high side of the scale, we would have to write very compelling content and possibly get some backlinks in order to rank on Google.
Let's click on "best writing apps" to get more details.
Now we can see keyword variations, questions that people ask, and related keywords. By drilling down like this, we can formulate a blog post outline or YouTube video outline that will answer many questions related to what we're going to promote.
Scrolling down on this page, we see what's on the first page of Google:
With this information, we can see how many backlinks our competitors have and what kind of estimated search traffic, keywords, and authority they have.
We could also open each individual link and see what our competitors are saying, and write a better piece of content.
This is just a brief summary of how SEMrush and a keyword research tool can help you promote products and earn money through affiliate marketing.
Write a Guide or Review to Make Money With Affiliate Marketing
Readers are more likely to engage with a product or service when they have more information about it. Helping the reader via showing them the benefits of the product can lead to more conversions.
A tutorial walks potential customers through everything they need to know so that they feel confident enough to make a purchase and move forward.
Here are some things you can do in a tutorial or review:
Introduce the product and talk about what it is and how it will help your reader.
Use media to enhance your post. That means using pictures and/or video.
Be detailed. The more detailed your tutorial is, the more helpful it will be for your reader. This is also good for SEO.
Add your affiliate links, but don't be spammy with them. Usually, having one link in the beginning, middle, and end is all you need.
When you have enough engaged traffic, a single tutorial could earn you a lot of money over a long period of time. Put extra care into each tutorial you write so that you really help your reader understand what it is you're trying to get them to buy.
Use Your Email List to Make Money with Affiliate Marketing
An email list is a great tool to use for affiliate marketing. It's important that you only promote helpful products to your email list and avoid spamming them.
Similar to writing a blog post, when writing an email to market an affiliate product, open with an introduction about what the product is and how it will help the reader. Describe the product and how it works.
You won't include an entire tutorial in an email, but you may provide a link to a full tutorial. After you talk about the product, include that you are providing an affiliate link and then provide your link.
If a product is on sale, using your email list is a perfect way to announce the sale and earn some affiliate sales.
What makes email lists so powerful is that the people who sign up for your list are your people. They signed up to hear from you, and they may be more likely to convert because they know and trust you.
There's no right or wrong frequency of emails to send, however, a common frequency is one email per week, with extra emails thrown in during a launch or sale.
Include Links in Your Blog Posts
Besides writing reviews and tutorials, you can include links in your blog posts as you discuss various topics. When you include affiliate links in your blog posts, make sure to explain the product in a sentence or two. Randomly adding affiliate links to blog posts doesn't help anyone. By providing some sort of context and explaining the benefit of the product, you're much more likely to get someone to convert.
Here's an example of including an affiliate link in a blog post.
I earn extra money on Swagbucks by filling out surveys and participating in offers. It's possible to earn a few dollars a day, which, while it won't turn your life around, will put some change in your pocket, which can be used for coffee money or similar.
Create a Recommended Products Page on Your Blog
Having a recommended products page on your blog can help you earn quite a bit of affiliate marketing income. Your readers read your blog because they enjoy your content, and they are likely to listen to what recommendations you have for them.
A good way to create a recommended products page is to break it down into sections. For example, if you talk about personal finance, for example, you might have a banking section where you recommend banks to save money in, then you might have a section for apps to help you save cash in various ways, and lastly, you might have a section for courses or books to help people earn more money.
Once you've created a recommended products page, you can create a menu item that leads to it and place it at the top of your site to maximize its visibility.
Be Helpful (but Not Spammy) on Social Media
You can use Facebook and Twitter to your advantage when you're looking to make money with affiliate marketing. Let's talk about Facebook first.
On Facebook, join groups that are relevant to the products you would be promoting. Once in these groups, interact naturally with the community. It's important not to simply promote products, as this could get you banned from the group. Instead, answer questions that people are asking, and where able, include your link, making sure you disclose it's an affiliate link.
For example, if you're in a blogging community and someone asks about SEO, you might want to include an affiliate link to an SEO book or course. Debbie Gartner sells an SEO book for bloggers which can also be used for those who want to earn more money with affiliate marketing.
Twitter works similarly. On Twitter, you can build up a following by engaging regularly and interacting with bigger accounts. While engaging with others, providing an occasional affiliate link, especially in a long tweet thread packed with value, can help you earn affiliate sales.
Suppose you're an affiliate of the service Trim, which helps users save money every month by identifying unused subscriptions that they're paying for and helping them by automatically negotiating certain monthly bills. In that case, you might be able to promote it on Twitter in tweet threads where people are looking for ways to save money. You could also create a tweet thread about saving money and provide the affiliate link for Trim at the end.
Build a Social Media Community
You can build a social media community on any social media platform, but having a Facebook Group could be ideal, depending on what it is you're promoting. A crochet blogger, for example, might build a crochet community in the form of a Facebook Group, and in that community, they could have members share their projects with one another. The blog owner could then share patterns they develop and affiliate links to popular crochet products, such as yarn, hooks, or various other products that enhance a crocheter's craft.
Whatever your niche is, you can build a community on social media and occasionally drop helpful links to your community. As you gain more followers and have higher engagement, your community will click your links, and some will convert, earning you affiliate revenue.
Building a social media community takes time and dedication, but a well-developed community can be quite profitable.
Use Pinterest to Make Money with Affiliate Marketing
Pinterest is a visual search engine where people go to search for things they're interested in. In fact, according to HelloSociety, 88% of people who purchase a product have pinned it at some point on Pinterest.
One popular method to making money with affiliate marketing that beginners can do is create a landing page on a website that promotes a product and then creates pins leading to that landing page.
It's important to make pins and promote products that are related to your niche. Promoting random products that go to various landing pages may cause you to have difficulty getting impressions and clicks on Pinterest. Pinterest likes accounts that are niche-specific and targeted.
Create a YouTube Channel
A YouTube channel can be a great place to review products and recommend services. For example, say you want to create a YouTube channel about blogging. One thing everyone needs for a blog is hosting. A commonplace for beginners to host a blog is with Bluehost, as they are very affordable.
You could create a YouTube video about starting a WordPress blog with Bluehost and provide a full tutorial and walkthrough. In the description of your YouTube video, you could then provide your affiliate link to Bluehost.
A hosting company like Bluehost may pay as much as $65 per signup if you're new with their affiliate network and much more if you frequently make sales for them.
A YouTube Channel could be used to review any product or service. You'll want your channel to have a specific niche so that you can attract viewers who know you for a specific thing. It's almost always more profitable to create content for something specific or niche than to create content for several unrelated topics.
Engage With Your Audience
Regardless of how you do affiliate marketing, engaging with your audience can boost conversions. You can engage with your audience on social media, in the comments on your YouTube channel or blog, or in your email newsletter.
When you engage with your audience, you become more human and familiar to them, and this increases trust.
Would you be more likely to buy a product from someone who you engage with regularly or a product you read off a blog you randomly found on a Google search? Generally speaking, you'd probably trust someone you regularly engage with over the random Google search.
For those who like being on social media, some people have a lot of luck on Twitter as an affiliate marketer as you can often converse with people you follow and people who follow you. These conversations can lead to successfully promoting products that you're an affiliate of in a natural conversational way.
Use SEO to Boost Traffic
Writing a well-optimized blog post is the key to pulling in traffic. Search engine traffic is generally the highest quality traffic you'll receive. It generally converts better, meaning you'll get more traffic and earn more money by performing good SEO on your posts.
Debbie Gartner has a number of SEO books that discuss in-depth how to write blog posts with SEO in mind. She uses her techniques to pull in hundreds of thousands of visitors per month to her blog. Here is a link to check out her SEO books.
SEO is a long game that takes time. It can take weeks to months for a well-optimized post to rank well on Google for several keywords. That said, it's quite possible to rank for dozens or more keywords for the same post if optimized correctly.
Approximately 92% of all search traffic goes to page 1, and 75.1% of all search traffic goes to the top 3 ranked posts. This makes it clear that ranking in the top 3 spots on Google on relevant keywords is the key to skyrocketing your traffic, which will make you much more likely to earn a lot more money.
SEO is all about providing value. The more value you provide, the better chances you'll have to rank. If you're reviewing a product in an attempt to make some affiliate sales through it, then writing a comprehensive review will provide you with the best results.
For example, returning to our earlier example about writing about "best writing tools," if you wanted to review Grammarly, a popular writing aid, then you would want to go into ample detail.
You would want to talk about all the features and benefits that Grammarly provides and provide screenshots of how to use the app. You might compare it to similar apps, like ProWritingAid.
Grammarly: Write Better and More Professionally
Grammarly helps you write mistake-free in Gmail, Facebook, Twitter, LinkedIn, and any other app you use.
Write better in seconds and land better gigs. Free and paid versions to choose from.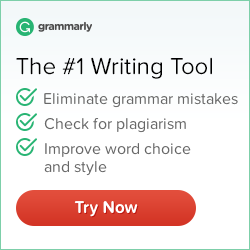 Affiliate Disclosure: This is an affiliate link, and we may earn a small commission if you click and make a purchase. This helps our site grow and provide you with more content. Read how we make money here.
Additionally, you'd not want to be too sales-y in your review. The idea behind providing an SEO-friendly affiliate review include:
Being honest
Covering the product fully
Not overly selling the tool
Providing alternatives
Giving pros and cons of using the product
In short, providing a lot of value will help you have more success with your affiliate marketing efforts, and your audience will appreciate you for it, which may lead to more sales.
Test Different Copy and Track Conversion Rates
Always test your affiliate marketing copy. It's hard to tell exactly what's working and what's not if you don't test and track your conversion rates. A/B testing is when you change one aspect of your content and see which performs better.
For example, if you're doing affiliate marketing over email, you might send a different subject line to half your mailing list and see which half of your mailing list has a higher open rate or conversion rate.
You can test blog post titles or even the content within the blog posts. If you are promoting the same product across several blog posts that get a similar amount of traffic, try changing the wording of how you promote your products across each post. If one post starts converting more, then you've found something that resonates more with your audience.
Depending on your traffic and how often you get conversions, it might make sense to change up your A/B test every 1-2 weeks until you've gotten enough information to determine which test is the most successful.
Additional Strategies for Making Money with Affiliate Marketing for Beginners
There are several other strategies that will help you be successful as a beginner affiliate marketer.
Focus on one niche. It's best to choose a niche that you're both passionate about and that's profitable. By focusing on one niche, your audience will more likely look upon you as an expert on something specific, which will make them trust your recommendations more. This leads to generally a higher conversion rate.
Offer alternatives to the products you promote. Having an objective perspective helps conversions because your audience won't feel like you're only pushing a single product. Become an affiliate for several competing products and recommend the competitors as alternatives so your audience can make an informed decision as to which product makes sense to them.
Promote honestly. Never lie about the products you're promoting. Your audience will eventually figure it out if you're disingenuous, and this will make it more difficult to be profitable as an affiliate marketer.
Don't sell too hard. Talk about what you're promoting, but don't over-sell it. Instead, tell stories about the benefits of the product and how lives have changed because of it. A story can convert much more than simply telling someone to buy something.
Test your copy frequently. You may be satisfied with how much you're earning with your current content, but you may be able to improve your conversions and the amount of traffic you get by improving your content. Always test different ways of marketing things.
Why Should You Get Into Affiliate Marketing
There are many great reasons to get into affiliate marketing, even as a beginner.
It doesn't cost much to get started. If you go the blog route, you'll just need to pay for a domain and hosting to begin. For YouTube, a smartphone camera is generally good enough for a beginner. Social media promotion has minimal to no startup costs.
You can do this work remotely. Affiliate marketing can be done from your bed, your living room, on the beach, or just about anywhere that has internet.
The income you earn is mostly passive, in that there's not a whole lot of upkeep once you get traffic that converts.
Your income is scalable. By using Facebook and Google ads, you can scale your income accordingly. For example, if you spend $5 a day on Facebook ads and earn $15 a day in revenue, then theoretically you could spend $50 a day on ads and earn $150 a day in revenue. Be sure to test first, as ads can get expensive, especially if they're not converting well.
Always remember, affiliate marketing is not a get-rich-quick scheme. It takes time and effort to build a platform and an audience, and a lot goes into it in order to be successful.
How Much Can You Make With Affiliate Marketing?
The answer to "how much can you make with affiliate marketing" isn't simple. The amount of money you'll make through affiliate marketing will vary, depending on what you're marketing, what the payout per action is, what your traffic is, and what your conversion rate is. Some affiliate marketers earn a few hundred per month, while others earn between $1,000 and $10,000 per month. It's possible to earn more.
Get a Remote, Flexible Job and Resume and Career Coaching at FlexJobs
FlexJobs is the #1 job search site for hand-screened flexible and remote jobs since 2007.
Plus, get resume, coaching, and career help.
Affiliate Disclosure: This is an affiliate link, and we may earn a small commission if you click and make a purchase. This helps our site grow and provide you with more content. Read how we make money here.
How Fast Can You Make Money With Affiliate Marketing?
The avenue in which you attempt to earn money with affiliate marketing will determine how fast you begin making money. That said, it's possible to start earning money within a few months. It may take longer to earn a significant income. If you blog and have affiliate links on your blog, it's common to take over a year before you'll earn significant affiliate marketing income. SEO (search engine optimization) is one key way to get the most amount of traffic to your blog posts in which have affiliate links that you're monetizing on.
How Much Traffic Do I Need To Make Money With Affiliate Marketing?
In affiliate marketing, the more traffic you have, the higher your conversion rate, and the more you get paid per conversion, all leads to having more money. That said, if you have a very engaged audience, you can make ample money with a somewhat small audience. But, to make a lot of money with affiliate marketing, you'll want to grow your traffic as large as possible.
Wrapping It Up
As a beginner looking to make money with affiliate marketing, you can sign up for Making Sense of Affiliate Marketing, a course by Michelle Schroeder-Gardner. This course teaches the ins-and-outs of affiliate marketing and where to sign up with affiliate networks. Her course covers strategy and implementation and comes with a supportive Facebook group that she's active in.
Dave is a Certified Educator in Personal Finance (CEPF®) and is passionate about spreading financial literacy. He founded Clean Cut Finance in 2021 and has been featured on websites like Yahoo! Finance, MoneyGeeks, and GoBankingRates. In his spare time, Dave enjoys experimenting in the kitchen, racing simulation, and reading.